Minimally Invasive Surgery
BENEFITS OF MINIMALLY INVASIVE BUNION SURGERY (ScareLess Bunion Surgery)

While there are over 100 surgical ways to fix a bunion, there is not one procedure that is considered the best for everyone.
However, minimally invasive surgery has distinct ADVANTAGES that bring it to the spotlight.
Less Scarring

Faster Recovery

Lower Infection Risk

Less Complaint of Pain

No Fusion of Joints (Lapidus)

Less Damage to Internal Tissue

Less Chance of Developing Stiffness of the Big Toe
PROCEDURE
Tiny incisions are made through the skin. Live X-ray is used to guide precision cuts through the bone. The bones are shifted into the correct position. Low profile screws are inserted to hold the position of the bones and remain completely hidden under the skin.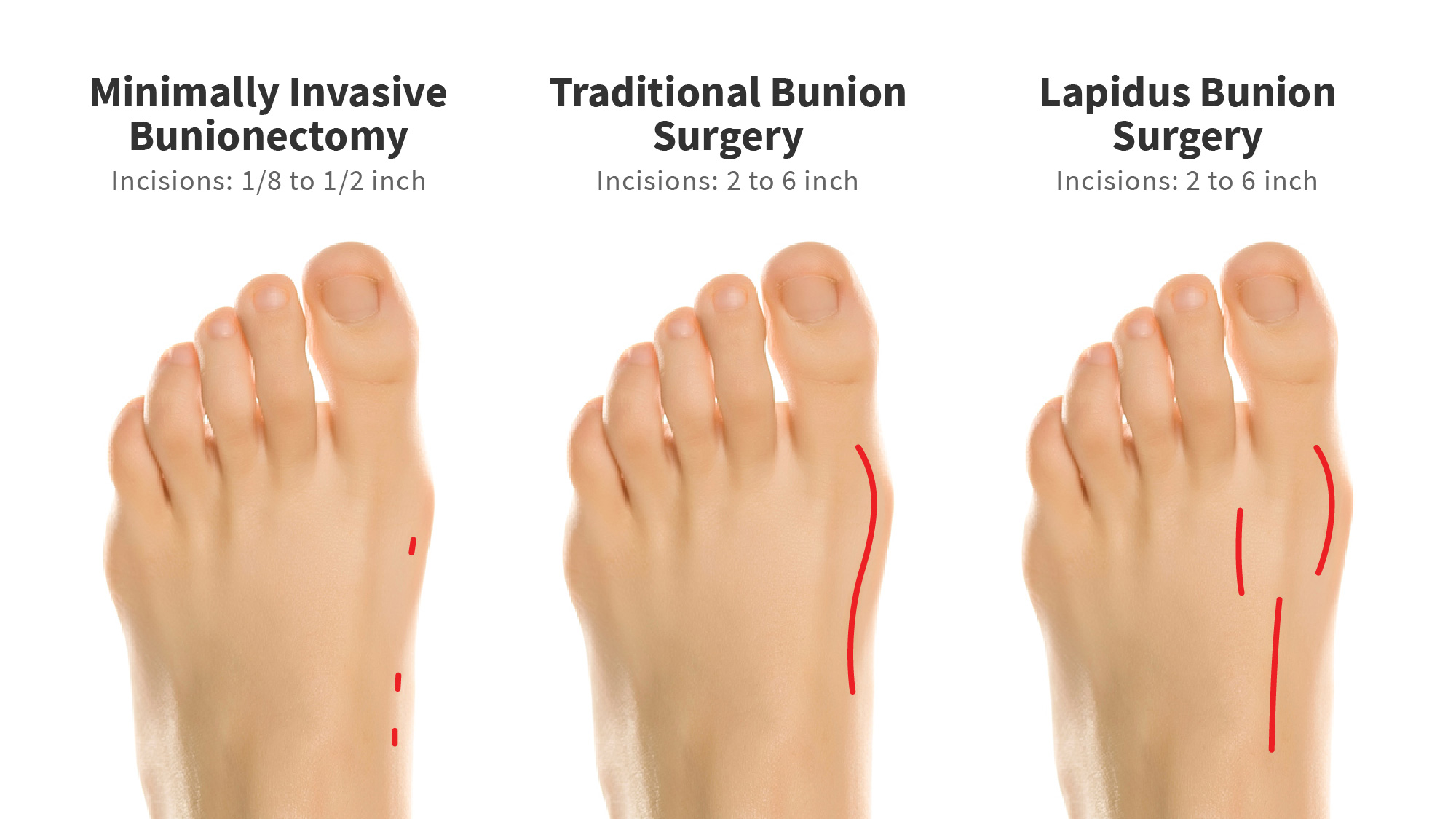 RECOVERY TIME
Minimally invasive (MIS) bunion surgery is an outpatient surgery which you typically go to sleep for. After the surgery, you are transported to the recovery room and will be monitored for 1-2 hours. You will go home the same day. You will only have a few stitches. Patients are typically able to walk in a cast boot after 10-14 days.
WHY I PREFER MINIMALLY INVASIVE BUNION SURGERY
The small incisions allow much less damage to the tissue. The blood flow is less disrupted. This means that the bone and soft tissues are able to heal at faster rates Vs other bunion surgeries. There is much less chance of developing a stiff toe after the surgery. Other bunion surgeries cause scarring around the big toe joint which leads to stiffness later on. Severe bunions may still require larger incisions. However, if you are a candidate, I absolutely recommend MIS bunion surgery.